yesss! main activity aq lepas SPM!
tengok dan khatam cita korea yang best2! (: [Quran tamao khatam plak --"] insaf seketika...
lepas je SPM, aq tengok cita <my princess> kat 8tv. then, cita tu da abes, punya la frust sebab ingatkan cita tu baru nak start, tengok2 daa abes! hampeh betol -,-
lpas cita <my princess> tu, ada la cita baru! tajuk dy <my gf is a gumiho> ne laa!
ingatkan ta bez, tapi my dearest friend, amalina ckp bez gilaa!
aq pon musykil lar, try tengok.. haha~ mmg best pon ((:
gumiho tu maksudnya rubah berekor 9. gurlz dlm cita tu lar yg jdi gumiho. cantik na mati tao gurlz tu!
this is the pretty gumiho! the girl's name is shin min ah. dlm cita tu nama dy mi ho/park san ju.
siyez, sgt lawaaa ~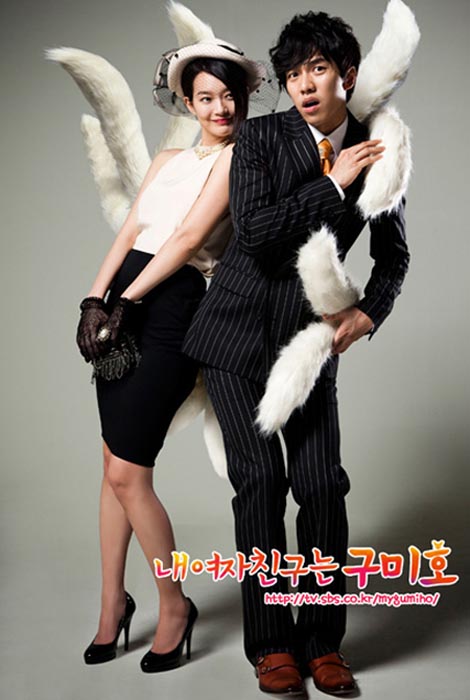 (: main cast for my gf is a gumiho. cita tu lawak gla kot especially diorang ne!
haaa! yg ne aq geram betol!! muka cam perempuan sikit.
handsome tuuu! :))
nama betol dy noh min woo~
1st time aq tengok dy.. selama ne ta penah kenal pon -,-
park dong ju!! he is the one main casting for my gf is a gumiho.
everyday, aq sanggup terpacak dpn tv dan berebut siaran tv dgn ayah aq sebab DIA lar.
eishh, jaat sunggoh :)
lee seung gi.
my dearest friend, amalina minat giler dgn mamat ne.
aq pon heran, haha
diorang punya pelakon semua cantik2.
even watak jahat pon cantik!
pelik gak, haha :)
the sweetest couple ever! <3
guess what. mi ho tu guna marker yang dakwat kekal sbg blusher dy!
lawak doe, innocent gla.
for this drama, aq bagi 4/5 star!
cita ne sdg ditayangkan dkt 8tv skrg.
tpi, daa nk final episode kot.
so, cpt2 la pegi tgok, k c(: